Chandeliers with Metal Arms
53 items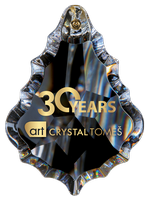 Czech brass chandeliers and lights with metal arms. Traditional craft production in traditional and modern designs. The chandelier shape is characterized by a glass body with brass components in gold or silver finish, metal arms and bowls. Some of these lights are richly decorated with crystal trimmings of the highest quality - Bohemia Crystal.
The brass chandelier with crystal trimmings is a jewel of every interior.
Joy with every lighting.