Ceiling Lights Cascade
36 items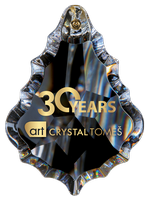 Czech crystal ceiling lights and chandeliers - Bohemia Crystal. The common feature of these chandeliers is the stepped trimmings of distinctive shapes - balls, pyramids and rectangular prisms. Another possibility is waterfalls of cut crystals suspended on a fine metal structure in gold or silver finish.
Ceiling light with crystal trimmings is a jewel of every interior.
Joy with every lighting.