Pendant Lighting Crystal
39 items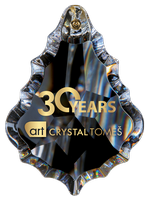 Czech crystal pendant lights and chandeliers - Bohemia Crystal. Handmade in traditional, historical, retro, vintage, classic or modern designs. These lights resemble earlier classic lamps, but the shades are not only made of glass but also cut crystal trimmings. Due to their variability, these lighting fixtures can make them special and brighten rooms with higher and lower ceilings. These chandeliers are suitable for living room, bedroom, dining room, kitchen, entrance hall, above dining table etc. Chandeliers can be made in gold or silver finish.
Ceiling light with crystal trimmings is a jewel of every interior.
Joy with every lighting.