Preciosa Ceiling Lights
38 items
Showroom

Sale / in stock Discount 20%

840 €

1 050 € incl. VAT Discount 20%

Sale / in stock Discount 50%

291 €

581 € incl. VAT Discount 50%

Sale / in stock Discount 40%

958 €

1 596 € incl. VAT Discount 40%

Showroom

Sale / in stock Showroom Discount 30%

4 930 €

7 042 € incl. VAT Discount 30%

Showroom

Showroom In Stock

Sale / in stock Showroom Discount 20%

2 067 €

2 583 € incl. VAT Discount 20%

Sale / in stock Discount 50%

719 €

1 439 € incl. VAT Discount 50%

Sale / in stock Discount 50%

865 €

1 730 € incl. VAT Discount 50%

Sale / in stock Discount 40%

1 680 €

2 800 € incl. VAT Discount 40%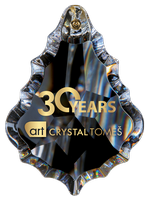 Czech ceiling lights and chandeliers from Preciosa a.s., Kamenický Šenov. These chandeliers from a renowned Czech manufacturer Preciosa are characterized by high gloss and high-quality craftsmanship. Cut crystal trimmings with a high content of PbO give every interior a unique charm. There are large luxury chandeliers to a small light with a single light bulb.
Preciosa crystal light is a jewel of every interior.
Joy with every lighting.