Spiral Crystal Lights
44 items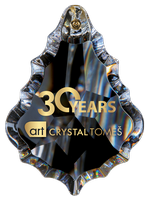 Czech crystal ceiling lights and chandeliers - Bohemia Crystal. These magnificent chandeliers in the form of a long spiral or veil will decorate high ceiling rooms, stairway vistas, hotel receptions and banquet halls. Spiral chandeliers can be made in gold or silver finish.
Ceiling light with crystal trimmings is a jewel of every interior.
Joy with every lighting.