Preciosa Chandeliers
22 items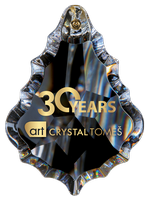 Czech crystal chandeliers and lights from Preciosa a.s., Kamenický Šenov. Handmade in traditional and modern designs. The chandelier shape is characterized by a glass body, chandelier arms and bowls. The lights are richly decorated with crystal trimmings of the highest quality. Preciosa chandeliers are renowned all over the world and have a specific charm.

The Bohemian crystal chandelier Preciosa is a jewel of every interior.
Joy with every lighting.