Preciosa Lighting
30 items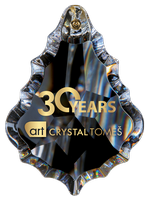 Czech design lights and chandeliers from Preciosa a.s., Kamenický Šenov. These chandeliers from a renowned Czech manufacturer are characterized by high gloss and high-quality craftmanship. They can be fitted with conventional or LED bulbs. Preciosa chandeliers bring original lighting to the living room, bedroom, dining room, kitchen, lobby, above a dining table, etc.
The Preciosa designer light is the jewel of every interior.
Joy with every lighting.