Light atmosphere of the room
Added: 6.1.2023 10:23.49
06 January 2023
Lighting can fundamentally change the character of a room. Both in a positive and negative way. You can use it to perfectly connect the whole interior and give it the right atmosphere, or, on the contrary, create a space where you are not comfortable. See how to use crystal chandeliers to conjure up a unique lighting atmosphere in any room to make you or your clients feel great.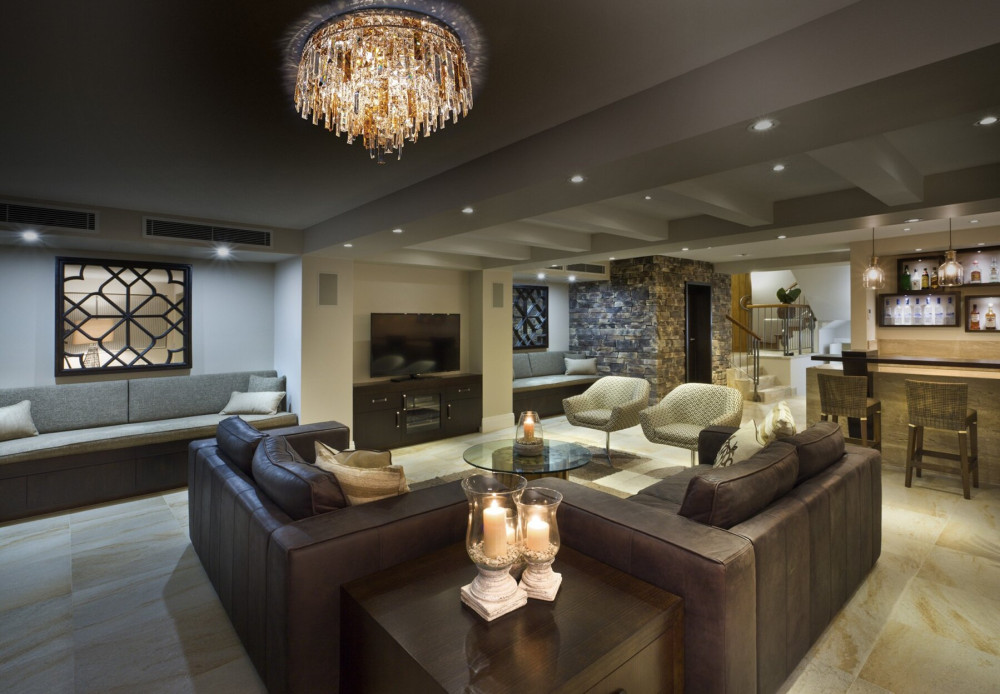 Today, it really is desirable when choosing lighting for individual rooms, to think beyond whether you like the design of the fixture. That's why more and more people are also putting this concern on the shoulders of architects and designers to work out the design of a perfect interior in all aspects.
No wonder. After all, interior lighting is one of the most important factors that influence how we feel about a room and how we live. However, in order to be able to select and combine it in a way that brings a relaxing atmosphere, you need a bit of theoretical knowledge in addition to aesthetic perception and attention to detail.
You need to know what light intensity and brightness are, how these variables affect the correct number and placement of lights, and what the optimum light intensity is in each room.
Let's do this.

Intensity of light
Intensity of light represents the fraction of the light flux falling on a specific area. It is expressed in lux. Appropriate lighting intensity is integral to maximum comfort, as we need to be able to see clearly under our hands when cooking, whereas in the bedroom we prefer more subdued light.
And on the bedside table, for example, a lamp at which we can read without preventing our loved one from sleeping. The right intensity of light depends not only on the room, but also on the specific activity.
So you can achieve a great feeling in all rooms by having different light intensity in each room. And that you can modify the intensity at will.

The recommended light intensity is variable. For example, the appropriate lighting intensity in the living room will depend on whether you want to read, work or sit down with friends or family for a social game.
That's why it's usually not enough to have just one main light source, and it's a good idea to supplement a crystal chandelier with additional lighting (e.g. wall lights or lamps) or mood lighting (e.g. LED strips) - and to combine their light in different ways.
It is therefore best to distribute the optimum lighting intensity in a room between several luminaires.
Recommended lighting intensity by room
Bedroom, living room, children's room – 200 lx
Kitchen, bathroom, porch – 150 lx
Hallway – 100 lx

Recommended intensity by activity
Cooking– 500 lx
Reading – 300 lx
PC work – 400 lx
Brightness
Brightness (luminance) is the only photometric quantity that we perceive with our eyes and our visual organ reacts to it directly. It expresses the amount of transmitted light that is reflected from space or emitted - and falls at a certain angle. It is expressed in candelas per square metre and therefore represents the luminance of a particular light source with an area of one square metre.
Brightness therefore plays a vital role in the positioning of supplementary lights. These should be sensitively positioned to illuminate an area that is no longer well lit by the main light.
However, it is usually not the intensity that is indicated on the bulb packaging, but the luminous intensity, which indicates the amount of light emitted at a particular angle. Therefore, when recommending specific lighting for each room, we base our recommendations on the luminance calculation.

How to calculate the required light intensity
Simple. Multiply the area of the room and the recommended lighting value. This gives you the required luminous intensity (in lumens), which can be found on the bulb packaging. So just follow this formula:
m² × lx = lm
Lighting in the living room
To illustrate, let's first apply the above formula so that you know how to go about calculating the optimum cumulative intensity Calculating the ideal luminous intensity in a 5 × 5 metre living room will look like this: 25 m² × 200 lx = 5000 lm.
However, it is reasonable to assume that there will be many different activities taking place there that will be enjoyable at different lighting intensities. We therefore recommend combining the main luminaire, which is a crystal chandelier, with additional luminaires, such as a wall lamp, a lamp or a spotlight, so that the total sum of their luminous intensities is about 5000 lm.
Choose the location of supplementary and possibly also mood lights so that they sufficiently illuminate the area that is no longer illuminated by the primary light. However, if you know that, for example, you will only be reading by a lamp and not by the light of a crystal chandelier, make sure that the supplementary lights illuminate the specific area where you plan to carry out the activity.
You can put a wall light and a lamp practically anywhere. We also recommend LED strips as mood lighting, for example, behind the TV, where they will complete the atmosphere.
Take inspiration from our wide range of crystal chandeliers for the living room.
Lighting in the kitchen and dining room
While in the living room we only recommend more lighting fixtures, in the kitchen we consider it an absolute necessity for safety reasons. You can easily eat with the slightly more intimate lighting of a crystal chandelier above the table or a lamp by the window, but you need to be able to see clearly under your hands when cooking. That's why there should be some spotlights or a wall light above the kitchen counter.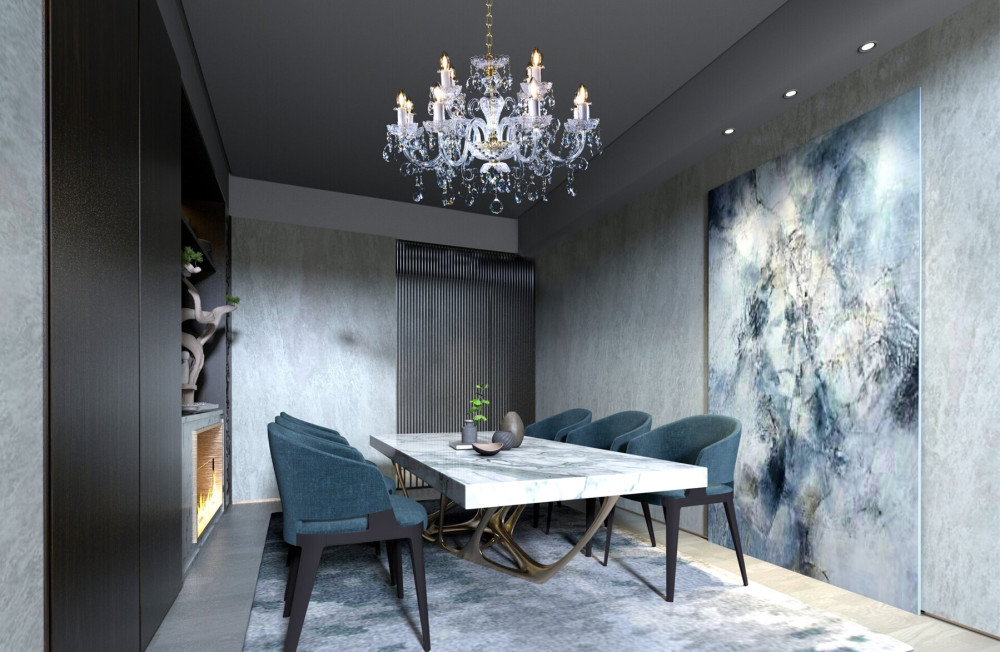 Take inspiration from our wide range of crystal chandeliers for the kitchen and dining room.
Lighting in the bedroom
Our bedrooms also serve multiple purposes. Sometimes we enjoy romance or a moment of comfort with a book, but sometimes we work there. We also get dressed every morning. And the lighting should take all this into account.
So just a crystal chandelier on the ceiling won't be enough. It will need to be supplemented with at least a lamp - either a table lamp or a floor lamp. And, depending on the location of the mirrored wardrobe, perhaps a wall light, so that you can see yourself clearly enough when getting dressed.
And you're guaranteed to boost your mood with mood lighting in the form of LED strips placed around the bed.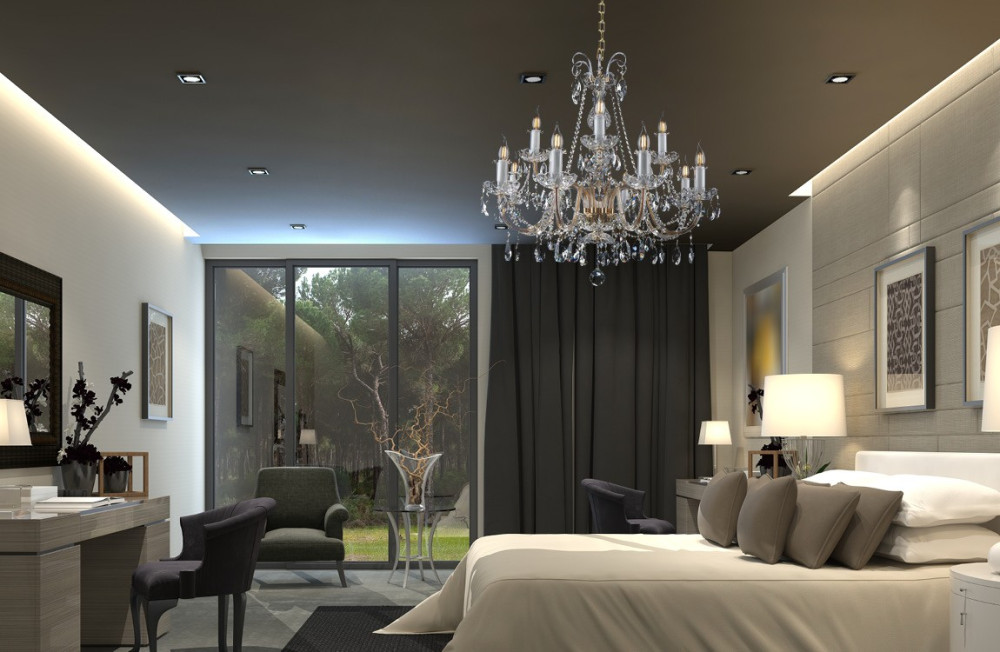 Take inspiration from our wide range of crystal chandeliers for the bedroom.
 
We are here for you
Need help with something? Contact us. We will be happy to help you. And together, we'll tune your customers' future home to the tones that best suit them.