Types of lighting
Added: 22.4.2022 11:19.39
22 April 2022
Less is sometimes more. But sometimes you want to have a wide selection. For example, when choosing lighting. In this case, you'll definitely welcome the fact that you have many types of lighting fixtures to choose from that can be creatively combined to figuratively and literally light up your home. See what types of lighting are available.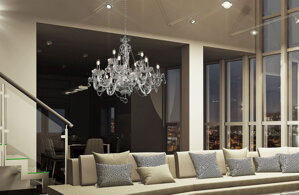 1. Ceiling lights and chandeliers
Every room should have at least one central light fixture that forms the main illumination of that space. As a rule, it is the so-called ceiling luminaire, whose placement is "strategically" the best. It can be either attached to the ceiling or suspended from the ceiling.
Ceiling lights attached to the ceiling are a suitable type of lighting for rooms with low ceilings, where classic hanging chandeliers, regardless of their beauty, could be rather obstructive. They are adapted for mounting directly on the ceiling, so their installation is not difficult.


In addition to the ceiling lights, we also offer many types with a lower design that are mounted on a short bracket, which also makes them take up little space and make them suitable for almost any room. We offer these ceiling lights in many shapes: basket, square, wave, drum, cascade, pear, spiral, atypical and spot.
A special category is the pendant crystal luminaires, which, although slightly longer than the previously mentioned ones, are still not counted among the classic chandeliers.


In addition, our ceiling lights and those with a lower construction contain crystal trimmings. These are crystal ornaments of various shapes and designs that give the luminaires a unique look.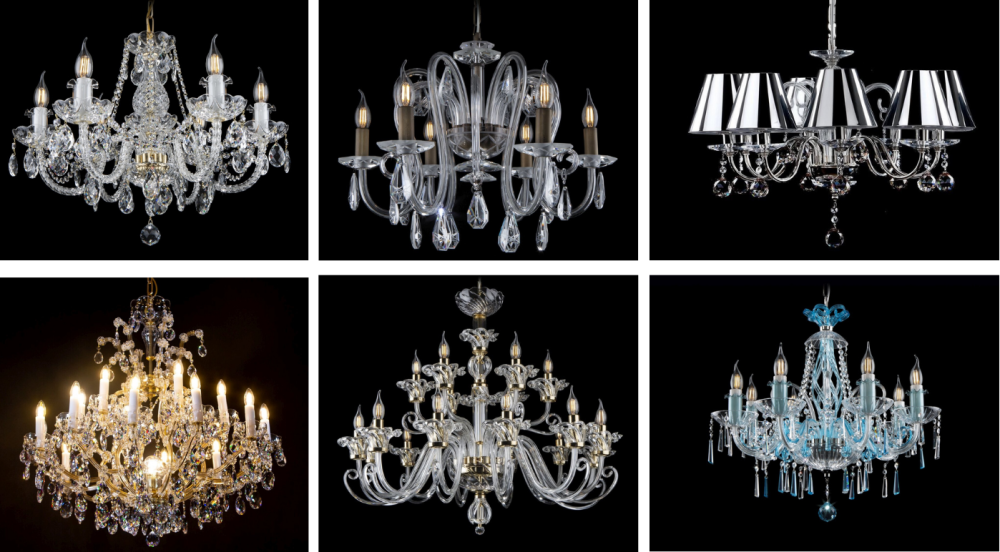 Of course, pendant lights are also represented by crystal chandeliers. While this flashy lighting source requires a bit more space, you can use them really anywhere. In the living room, kitchen, bedroom and hallway.
In general, chandeliers for the living room or hall can be multi-armed, while for those in the kitchen, study, bedroom or children's room, a smaller number of arms will suffice, but this is not a dogma.


There are no limits to the imagination, so it depends entirely on your taste and the overall concept of the room, whether a crystal chandelier traditional, modern, luxury, cut crystal chandelier, with shades, Marie-Therese style or a clear glass chandelier or coloured glass arms will fit in as the proverbial last piece of the puzzle.



2. Wall lights
There are some rooms where ceiling lighting is not suitable or where a more subtle light from a source mounted directly on the wall will suffice. That's where wall lights come in handy, as they can easily light up smaller spaces where you want to save space but also need quality illumination. This could be a hallway, bathroom, staircase or toilet.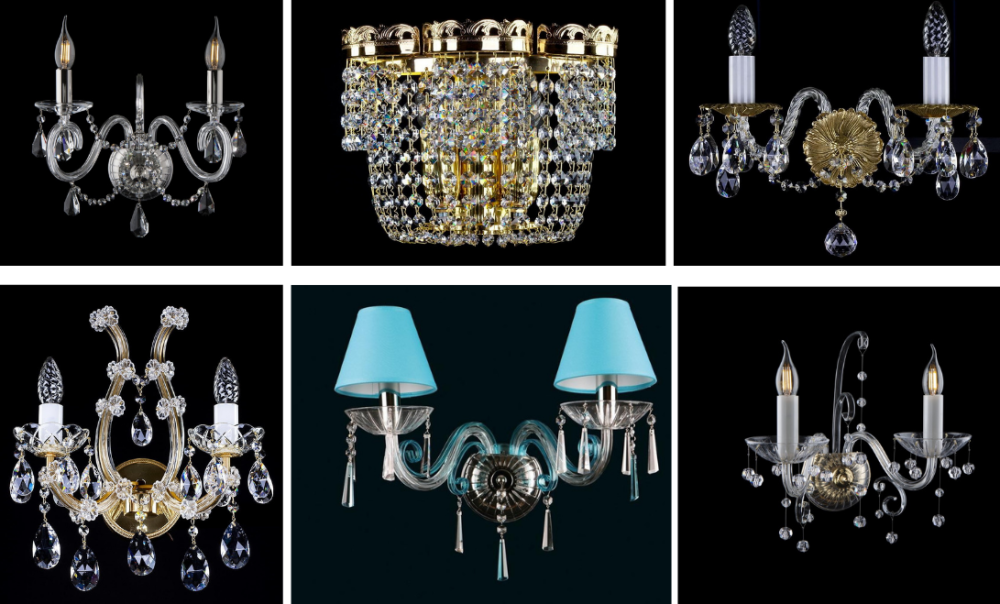 However, they can also be used as secondary light sources to supplement the primary ones, because often the light from a large chandelier or ceiling light does not reach everywhere.


Plus, at least in the living room and bedroom you do a number of different activities where you need different levels of light, so you'll definitely welcome the fact that, for example, in the evening when you're undressing you can just switch on a wall light so you're not completely in the dark, while in the morning when you're getting dressed you can turn on a stronger light so you wake up straight away and know exactly what you're wearing.


Both the main and supplementary light can be in a uniform design and blend beautifully together. Wall lights are available in virtually all styles, as are chandeliers. So you will find wall lights traditional, modern, crystal, brass, coloured and Marie-Therese style wall lights.
3. Lamps
Each of us relaxes differently at home. Some people like to listen to music and contemplate in the evening, others like to read. However, we prefer a different light for this than that of the primary lighting source. When we return from work, we either want to be in a pleasant dimness or we want to be able to see clearly only under our arms.
Table lamps are ideal for this purpose. Floor lamps are also very popular as they serve as a distinctive decorative element. You can place them in the corner of the room, by the couch or bed and rest contentedly with adequate lighting that is quite sufficient, but at the same time does not dazzle.
Table lamps bring the same elegance and light, but on a smaller scale. They are very compact and can fit on any desk, bedside table or cabinet. You can choose from lapms traditional, modern, brass and crystal trimmings.
We are here for you
Need help with something? Contact us. We will be happy to help you. And together, through the right kinds of lighting, we'll tune your home to the tones that suit you best.