What to choose lighting for the living room
Added: 9.5.2022 11:24.06
09 May 2022
If we don't count sleeping, but focus on waking activities, we spend most of our time in the living room during our stay at home. That's why it's very important to have appropriate and good quality lighting. See how to achieve this.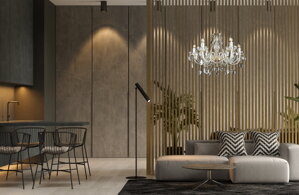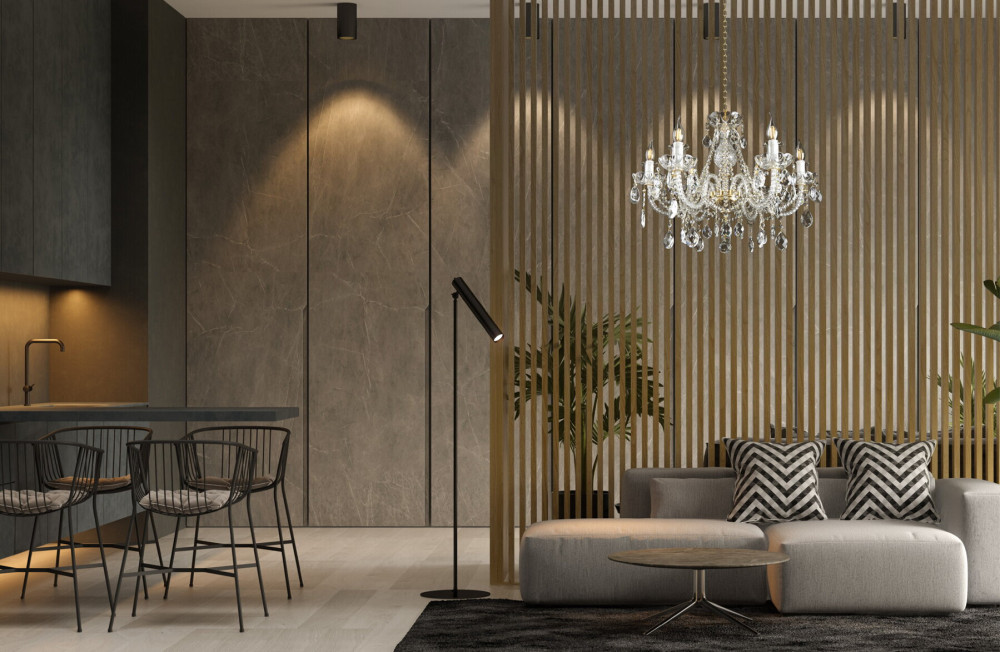 Lighting source and characteristics
You may be wondering what we mean by suitable and quality lighting, because articles of this type normally only mention a few types of lighting fixtures and nothing more. But there is a much more complex approach to lighting selection. Choosing the right source is only the first step.
The light emitted must also have the right characteristics, otherwise you will not feel comfortable in your own living room.
That's why we'll explain how to choose the right source of lighting for your living room. And also what properties the light should have to give you maximum satisfaction.


One light source in the living room is not enough
Let's get one thing clear at the outset - it's not enough to have just one lighting source in the living room. There are many different activities going on in the living room that are enjoyable with different levels of light. When visiting friends, watching TV or reading, you will always need slightly different lighting.
That's why it's a good idea to have one main light in your living room and a few secondary lights that you can use and combine depending on what you're doing.


Depending on the height of the ceiling
The main criterion when choosing the main source of lighting in the living room is the height of the ceiling. For a room with a low ceiling, we recommend flush ceiling lights, ceiling spotlights or low ceiling lights. They are beautiful, evoke a feeling of luxury, but don't take up much space while providing plenty of diffused light, making the room visually larger.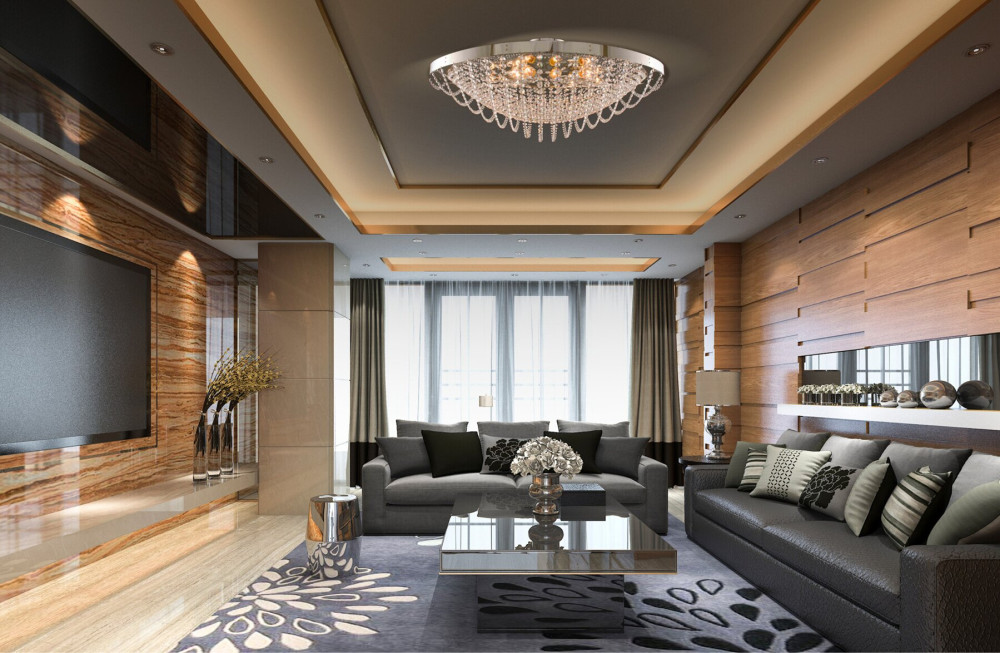 In a living room with a high ceiling, you are no longer limited by anything, so there you can choose a chandelier according to the style you like. And you don't have to make sure it's in the same style as the whole room. Crystal chandeliers look beautiful when they are perfectly matched with the room. Sometimes, however, they work very well as an important contrasting element, providing an interesting design "contrast".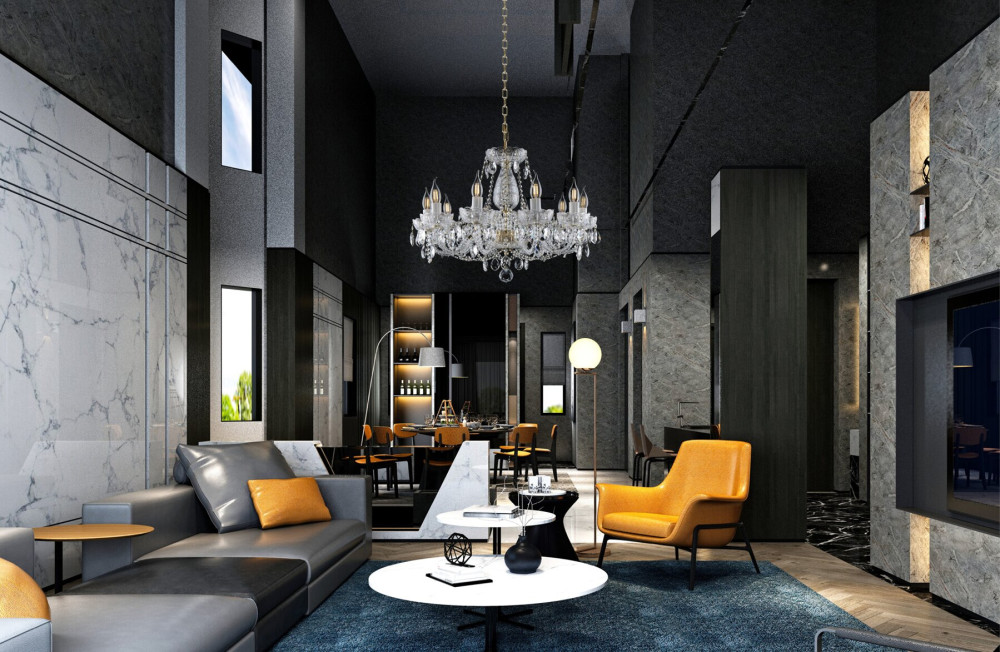 In our wide range of living room chandeliers, you can see that crystal chandeliers are definitely not just for castles and historic buildings. Today, they are also commonly found in modern interiors such as concrete new builds, loft apartments, modernised prefabricated flats, renovated city apartment blocks or even log cabins.


Secondary lighting
After choosing the main light source, focus your attention on the supplementary ones such as wall lights, table lamps and floor lamps.


Placement of lighting in the living room
The main light - i.e. a chandelier or some kind of ceiling light - should, of course, be in the middle of the room. If you have a table, it should ideally be directly above it.
Then choose the position of the supplementary lights so that they sufficiently illuminate the area that is not so well lit by the main light.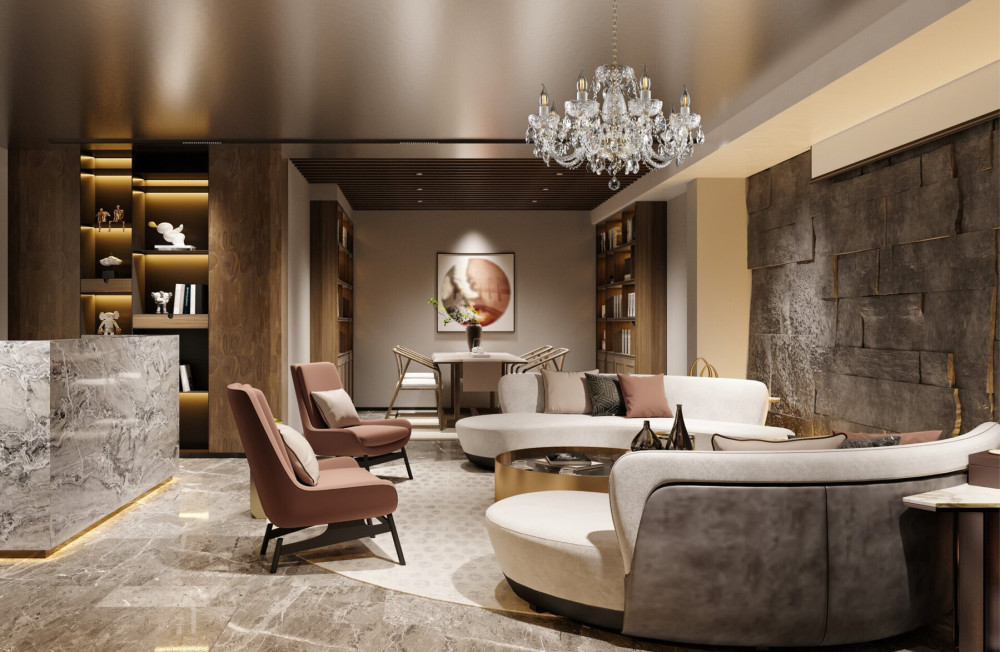 If you know that you will only be reading by a lamp, for example, and not by the light from a crystal chandelier, make sure that the supplementary lights illuminate the specific area where you plan to carry out the activity. You can put a wall light and lamp virtually anywhere.

Suitable lighting features
So much for choosing the right source of living room lighting and positioning it appropriately. You also need a bit of theoretical knowledge to be able to select and combine everything so that it brings a relaxing atmosphere.
You need to know what light intensity is, how this variable affects the right number of luminaires as well as the optimal intensity and colour of light in the living room.
Let's get to it.


Light intensity
Lighting intensity represents the fraction of the light flux that falls on a specific area. It is expressed in lux.
The recommended basic lighting intensity in a living room is 200 lux and applies to normal activities such as relaxing on the sofa, sitting with a visitor or playing board games. For reading you need an intensity of 300 lx and even 400 lx when working on a PC, when you need to concentrate as much as possible.
The light intensity is usually not indicated on the bulb packaging, but the luminous intensity, which refers to the amount of light emitted at a certain angle. Therefore, when recommending specific lighting for each room, we base our recommendations on the luminance calculation.


How to calculate the required light intensity
Simple. You multiply the area of the room in question and the recommended lighting value. This gives you the required luminous intensity (expressed in lumens), which can be found on the bulb packaging. So just follow this formula:
m² × lx = lm


Required luminous intensity of the living room
The calculation of the ideal luminous intensity of a 5 × 5 metre living room is as follows: 25 m² × 200 lx = 5000 lm.
We have already explained that there are several different activities taking place in the living room, which make it advisable to have several secondary light sources in addition to the main lighting. We recommend that these are selected and combined so that the sum of their luminous intensities is similar to the required total luminous intensity in the living room, i.e. in this case about 5000 lm.


Temperature and colour of light
The temperature of the light also indicates the colour of the light, also called the chromaticity temperature. This is given in Kelvin (K) and tells us what colour of light the bulb emits.
A simple equation applies here - the more kelvins, the colder the light. Conversely, the fewer kelvins, the warmer and, to some extent, darker the light will be.
See how the colours of light differ and what are the psychological effects of the colours of light.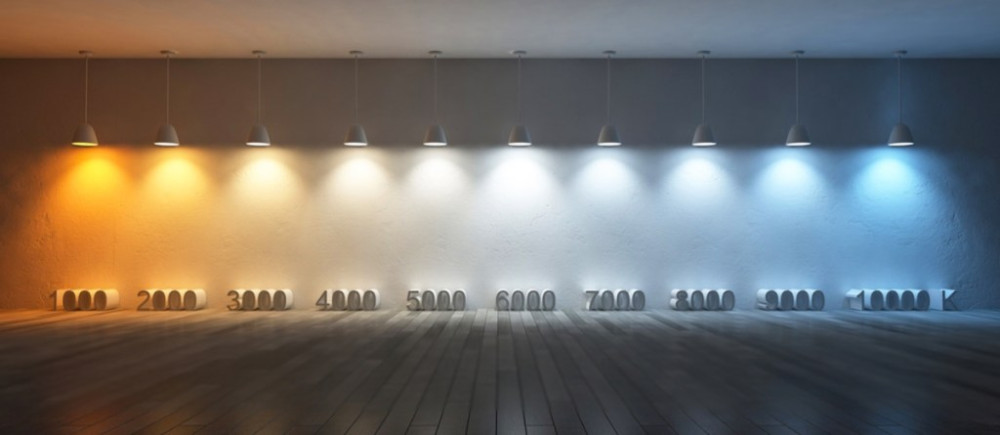 Ideal light temperature for the living room
In the living room, we primarily relax. That is why we most often recommend to our clients living room lighting of a warmer colour with a value of 2700-3000 K.
Cooler shades of lighting evoke daylight, so the brain will think it's daytime even at midnight, which can cause problems falling asleep.
A popular alternative is to combine lights of different colours and choose them according to your preferences and current activity. This is easily achieved. Just choose a living room chandelier with a cooler colour as the main lighting and complement it with lamps with a warmer shade.


We're here for you
Looking for inspiration for your living room lighting? See how to use crystal chandeliers to make it a stylish and timeless room. Need advice? Contact us. We'll be happy to help. And together we'll tune up your living room.