CZECH CRYSTAL CHANDELIERS, MODERN CEILING LIGHTING FIXTURES AND TABLE LAMPS BOHEMIA CRYSTAL TO YOUR HOME

Discover more than 3500 chandeliers, ceiling lamps and lamps online at eshop ArtCrystal.cz
Welcome to the online shop Artcrystal.cz with the biggest offer of crystal chandeliers and lamps. Choose from a wide range of quality czech lighting fixtures and lamps. Take advantage of our proffesional help so you can find and realize the appropriate and elegant lighting into your home or apartment. Whether you choose a lighting fixture or chandelier to the living room, a ceiling lighting fixture to the kitchen or an elegant table lamp on the bedside table into the bedroom, discover a new style for yourself and choose from our rich offer.
Crystal chandelier into the tradinional and modern interior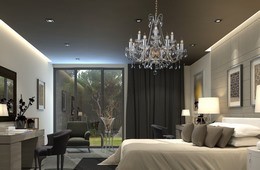 Classic crystal lighting fixtures definitely do not belong only to castles and historical buildings. More and more often they are becoming a decoration of modern interiors, regardless of whether they are concrete new buildings, attic apartments, modernized panel apartments, renovated urban apartments or log cabins. An advantage is undoubtedly the fact that crystal lighting fixtures excel in a minimalist interior where they are an important contrast element. 
Crystal lighting fixtures record the rise of popularity.
Modern crystal lighting fixtures represent an exceptional decorative element, which at first sight impresses with its design. Crystal trimmings can create beautiful lighting effects in the room and give the interior a specific charm. That is why the popularity of crystal lighting fixtures continues to grow. Inspire yourself and click Photos of chandeliers and lighting fixuters in interios >>
Ceiling lighting fixtures - a wide selection of lighting fixtures with trimmings
If you have metal and glass in your interior, we can offer you a collection of modern ceiling lights. Originality and high aesthetic appeal are the main feature of these lighting fixtures. The lighting fixture with trimmings bear its name according to the basic identification mark - small crystal trimmings cut with brilliant cut, similar to diamonds. These precisely machined cut crystals give the lighting fixtures a high degree of gloss.
The mounts are characterized by simplicity in shape, mostly without decoration or lightly molded decoration. These lighting fixtures are trimmed with specially cut small crystal trimmings that decompose the whole light spectrum and create fascinating shapes. Thanks to them, the effect of a separate light object is created. The main feature of this group of lighting fixtures is a high aesthetic impression. On some models, trimmings are hang on the rivets to give the lighting fixtures a shape-original look. You can find ceiling lights here >>
Table lamps
Table lamps in different decors and designs into the living room, bedroom or on your work desk. Here you will find classic crystal table lamps, retro-style lamps as well as modern table lamps.
A special group is made up of lamps with cut trimmings or cut tulips, depends only on your taste. You can choose the material from brass to massive glass. Lamps have varied, round, square or rectangular lampshades, whether glass, textile or washable material. The legs of the lamps can be decorated with chaton roses. You can also choose a lamp with curved or smooth, glass or brass arms.
Everybody chooses! Find table lamps here >>
Crystal chandeliers now - from candle to LED lighting fixture
Forget the chandelier your grandmother had at home. Thanks to the new technologies and production processes, our technologists and designers are able to imprint to classic lighting fixture new sparkle and charge and, in general, to take it "in a different way" - modern. And what type of bulb to use in the crystal chandelier? Even in so classic product you can use LED bulb without any worries.
Led bulbs undoubtedly made the biggest jump for the last time. They have the longest life and maximum efficiency. That the LED bulb does not fit into the classical crystal lighting fixture? Maybe that was the case, but it is not true anymore. Today you can choose an appearance that imitates a classic candle, even with a flame. LED bulbs can greatly enhance and light up the beauty of crystal. In our chandeliers we use 4W LED bulbs. Consider, for example, such a standard large, eight-bulb lighting fixture. With 4W LEDs, the chandelier will have a 32W consumption. The washing machine consumes 425W for 3 washings, plasma TV 344W for 3 hours.