Ceiling Lights Square
35 items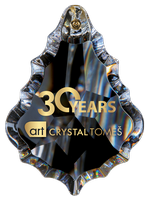 Czech crystal ceiling lights and chandeliers - Bohemia Crystal. The lights have mostly square or rectangular base and give a modern impression. The design of these rectangular lighting fixtures is given by small crystal trimmings, which are hung on a metal (brass) structure in gold or silver design and thus give their shape.
Ceiling light with crystal trimmings is a jewel of every interior.
Joy with every lighting.