Ceiling Lights Wave
15 items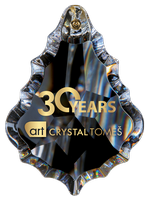 Czech crystal ceiling lights and chandeliers - Bohemia Crystal. Chandeliers of this category consist of ingeniously intertwined and curved crystal chandelier chains. The design of these wave-shaped lighting fixtures is given by the small crystal trimmings, which are hung on a metal (brass) structure in gold or silver design and thus give their shape.
Ceiling light with crystal trimmings is a jewel of every interior.
Joy with every lighting.