Flush Ceiling Lights
71 items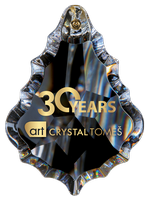 Czech crystal ceiling lights - Bohemia Crystal. These flush ceiling lights are designed for use in low ceiling rooms and are mounted directly on the ceiling. These lighting fixtures are handmade in traditional or modern style. The design of these flush lights is given by small crystal trimmings, which are hung on a metal (brass) structure in gold or silver finish and thus indicate their shape.
The flush ceiling light with crystal trimmings is a jewel of every interior.
Joy with every lighting.