Spot Lights Crystal
44 items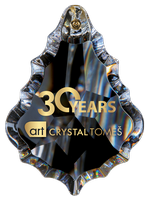 Czech spotlights with crystal trimmings - Bohemia Crystal. We offer these spotlights in three sizes - diameter 8, 10 or 12 cm, and in gold or silver finish. The metal body is decorated with cut crystal trimmings of various shapes. Spotlights beautifully stand out especially in lowered ceilings and in larger groups of spotlights.

Spot ceiling light with crystal trimmings is a jewel of every interior.
Joy with every lighting.