Chandeliers with Shades
47 items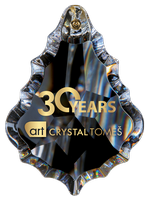 Czech crystal chandeliers and lights with shades - Bohemia Crystal. Handmade in traditional, historical, retro, vintage, classic or modern designs. A glass body characterises the chandelier shape with brass components in gold or silver finish, glass arms and bowls. Chandeliers can be made in clear glass or coloured versions. Shades are made of special textile, glass or plastic. Each shade can be easily attached to a bulb. Some of these lights are decorated with crystal trimmings (crystals) of the highest quality.
The Bohemian crystal chandelier with shades is a jewel of every interior.
Joy with every lighting.