Cut Glass Crystal Chandeliers
139 items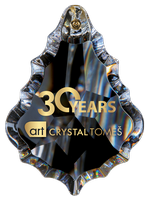 Czech cut glass crystal chandeliers and lights - Bohemia Crystal. Handmade in traditional or modern designs. A glass body characterises the chandelier shape with brass components in gold or silver finish, glass arms and bowls. These crystal glass components are hand-cut by traditional methods and decors, so we can say: each piece is original. They are richly decorated with crystal trimmings (crystals) of the highest quality. Can be fitted with standard or LED bulbs.

The Bohemian hand-cut crystal chandelier is a jewel of every interior.
Joy with every lighting.