Large Ceiling Lights Crystal
31 items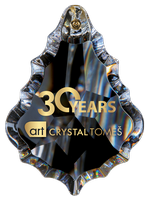 Large ceiling lights with crystal trimmings - Bohemia Crystal. In this category, you will find Czech handmade large ceiling light fixtures in traditional or modern designs. The shape of these ceiling lights is given by small crystal trimmings (crystals) of the highest quality. They are hung on a metal (brass) construction in gold or silver finish. Bring spectacular lighting to residential homes, commercial and public buildings.
Ceiling light with crystal trimmings is luxury a jewel of every large interior.
Joy with every lighting.