Wall Lights Crystal
70 items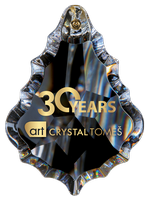 Czech wall lights and lamps - Bohemia Crystal. Handmade wall lights with crystal trimmings in traditional and modern designs in gold or silver finish. These wall lights are a suitable complement to the main chandelier or ceiling light for the living room, bedroom, dining room, kitchen, entrance hall, etc.
Wall light or lamp with crystal trimmings is a jewel of every interior.
Joy with every lighting.