Swarovski Trimmings Chandeliers
49 items
In Stock

Showroom

Showroom

Showroom

Showroom

Sale / in stock Showroom Discount 20%

1 552 €

1 940 € incl. VAT Discount 20%

Showroom

Showroom

Sale / in stock Showroom Discount 20%

1 147 €

1 434 € incl. VAT Discount 20%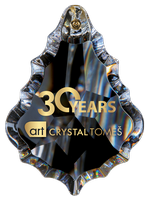 Czech crystal chandeliers and lights with Swarovski trimmings. Handmade in traditional and modern designs combined with exclusive trimmings (crystals) from Swarovski. The chandelier shape is characterized by a glass body with brass components in gold or silver finish, glass arms and bowls.

The Bohemian crystal chandelier with Swarovski trimmings is a jewel of every interior.
Joy with every lighting.