Maria Theresa Large Chandeliers
28 items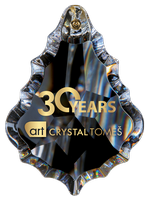 Large Maria Theresa chandeliers - Bohemia Crystal. Traditional Czech handmade lights in specific designs. The shape of these large chandeliers is characterized by flat metal arms, lined with glass strips and glass roses. Brass components are available in gold or silver. The chandeliers of Maria Theresa bring spectacular lighting to residential houses, commercial and public buildings.
Maria Theresa chandelier is a significant jewel of every large interior.
Joy with every lighting.