Crystal chandelier as a co-creator of atmosphere
Added: 6.2.2023 14:41.21
06 February 2023
Luminaires no longer fulfil a purely practical function. Nowadays, they are also an interesting design element that not only literally but also figuratively "lights up" a room. They can add elegance, style and panache. They are the icing on an already perfect-looking cake. And with crystal chandeliers, this is doubly true. See how they can be used to complete the atmosphere and achieve the desired emotions.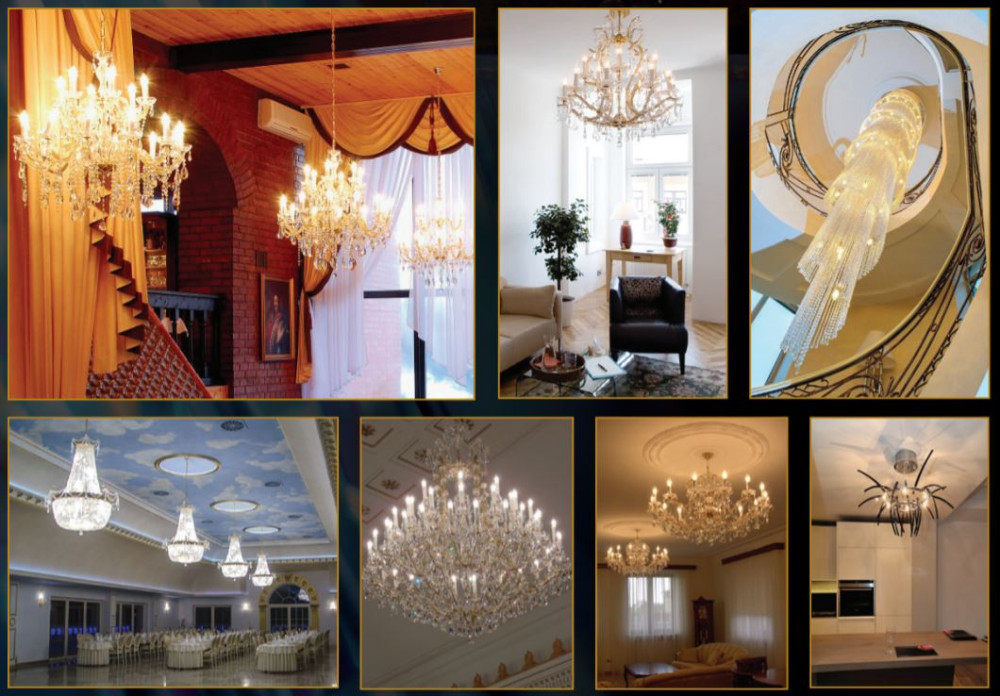 Crystal chandelier as a co-creator of atmosphere
Crystal chandeliers give the impression of luxury. Quite rightly so. Regardless of the intensity of their light, they dazzle people. In a good way. It exudes a refinement that reliably fills both living, representative and commercial spaces with light and beauty.


They are suitable for luxurious interiors, but they can evoke a feeling of five-star luxury even in seemingly ordinary conditions. And not only at home, but also in restaurants, hotels, boutiques and jewellery shops. In short, wherever you want to offer yourself, your family or your customers an exclusive experience.
Crystal chandelier as a co-creator of emotions
Sight is the most important sense for perceiving space, so when designing an object and interior design, it is important to also focus on light, which greatly influences the human psyche and emotions.


3 pillars of architecture and design
After all, architecture itself is essentially composed of three basic elements: mass, space and light. These elements can create and then convey to the human eye an interesting environment with an artistic touch.
And light plays an important role in the perception of architecture and design, because thanks to the play of light and shadow, the intensity of lighting or various effects, material or spatial accents can easily be achieved in any environment.


The desired visual effect anytime, anywhere
In addition, artificial light sources have a great advantage over natural ones in that you can easily adjust them to create the desired visual effect regardless of time and place. But you can easily and extremely effectively evoke the right emotions with them.
But first, a little theory so you know what the next section on working with emotions is all about.


Colour spectrum of light
The colour spectrum of light consists of 7 main colours - red, orange, yellow, green, cyan, blue, violet. That is why we call them spectral. But there are also non-spectral colours (white, grey, black, pink, turquoise) which are created by mixing the spectral ones.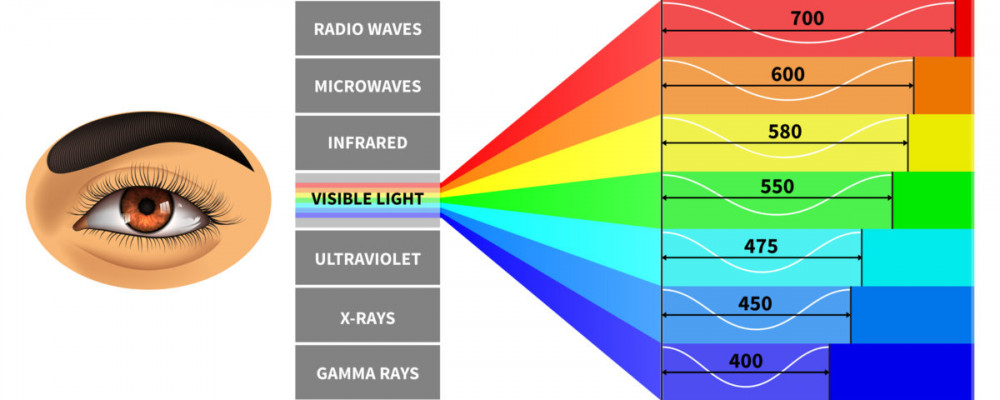 Psychological effects of light colours
We have known for centuries that colours have a great impact on the human psyche. In fact, the famous German playwright Johann Wolfgang von Goethe explored their effects in a study published in 1810. And the colours of light are no different. Light affects our emotions much more than we probably realise.


I. Psychological effects of white light
The name "white light" is perhaps a little misleading, as it refers to sunlight (and its artificial equivalents) ranging from warm white to cool white, representing a combination of wavelengths of red, blue and green light in different proportions to each other. And these change continuously throughout the day. In the morning and evening, the warmer red shade predominates, while around midday the cold blue shade is more prevalent. In between, there is a blending where we can see green.
The warmer white light makes you feel at ease. So much so that after a while, it can become sleepy. It increases levels of the sleep hormone melatonin. Cooler colours, on the other hand, reduce it and therefore help maintain concentration and improve study or work performance.


II. Psychological effects of coloured light

Red light
Red heat is warm, supports bodily functions and helps stimulate performance. It causes an increase in heart rate and adrenaline, but it can also lead to nervousness.


Orange light
Orange light is warm, induces well-being, is optimistic and stimulates appetite and communication. That's why you often see it in bars and restaurants. But of course everything in moderation. Even an excess of orange light can cause restlessness.


Yellow light
Yellow light is also warm because it evokes sunlight. And it has the same effect - optimistic. It also increases creativity, making it popular with artists.


Green light
Green light has a similar effect on our brains as nature does, a calming, relaxing and almost meditative effect. For this reason it is widely used, for example, in relaxation rooms where you go to lie down after a round in the sauna.


Blue light
Blue light gives you a feeling similar to watching the sky or the surface of the sea or ocean. In a moment you are calmer and more relaxed, but beware! Rooms with blue lighting can feel cooler than they really are, which can sometimes lead to higher energy consumption.


Purple light
Purple light is quite controversial because its effects are very different. It has a positive effect on some people and stimulates the imagination or fantasy, while it can be unpleasant for others and may even make them leave the area so illuminated.



The colour of light influences the perception of space and individual components
The shade of the light also determines how we perceive the space and how the colours, materials and accessories used stand out. This should not be forgotten when choosing lighting for individual rooms. Warm light goes well with orange to red, while cooler light goes perfectly with all shades of blue. The difference is really noticeable and stands out, especially when you have the opportunity for a direct comparison.
So much for the objective effect of light on emotions. Now let's move on to the subjective, because in the field of interior design and interior architecture clearly, there are a hundred people-a hundred tastes.
Crystal chandeliers fit every room and every style of interior design
Crystal chandeliers definitely don't just belong in castles and historical buildings. Today, they are also a common feature in modern interiors, whether they are concrete new buildings, loft apartments, modernised prefabricated flats, renovated townhouses or log cabins.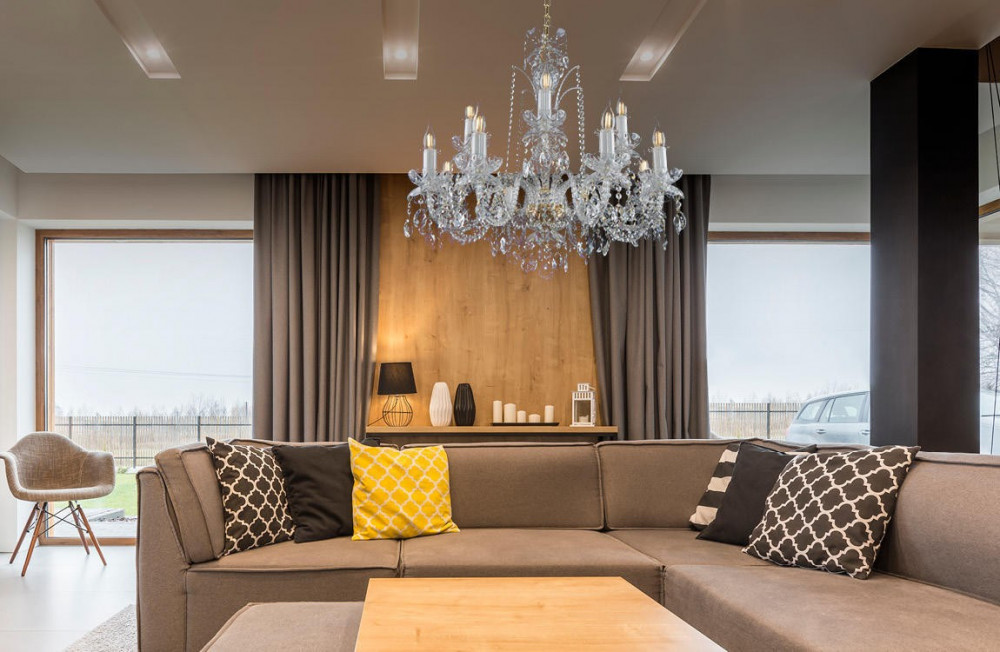 The reason for this is simple - you can choose a classic, modern or designer crystal chandelier so that it fits perfectly with the interior and everything is in a uniform style, or on the contrary, it can be used as an important contrasting element. So that it represents an interesting design "contrast".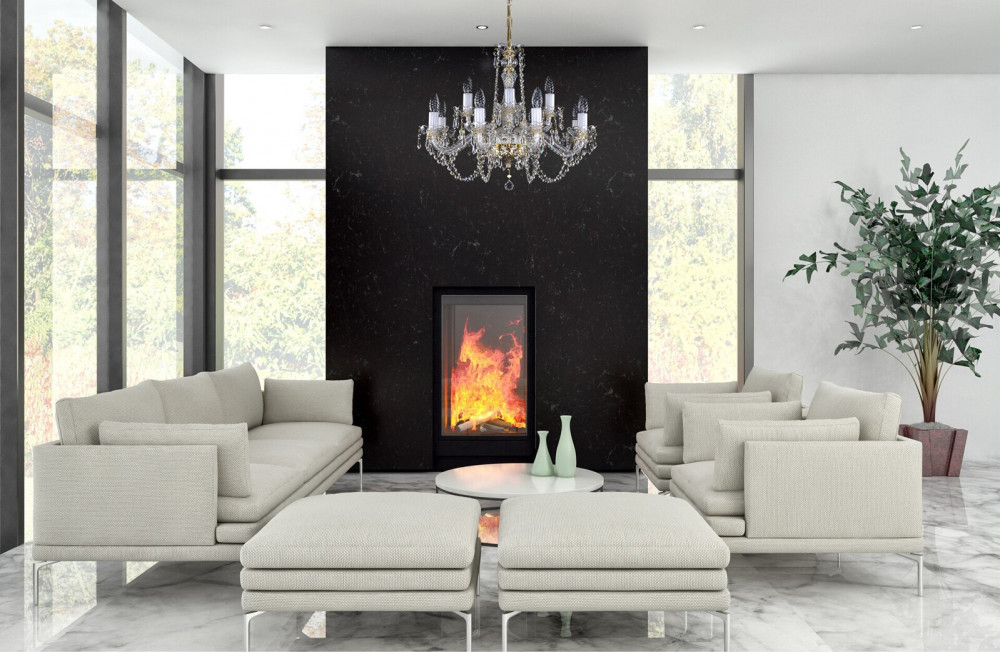 There really are no limits to imagination, creativity and the use of crystal chandeliers. So they can be used in every room. But this is where the individual taste of each architect, designer and customer comes in. We can only try to inspire you.


=> Choose crystal chandeliers according to the room.
=> Choose crystal chandeliers according to the style of the interior.


We are here for you
Need help with something? Contact us. We will be happy to help you. And together, we'll tune your customers' future home to the tones that best suit them.