Warranty 5 years Free shipping EU
Chandelier EL2262004
Category: Large Crystal Chandelier
Why is the price different?
Gold version 
is based on the natural color of the metal - brass - from which are the metal parts made.

Silver version 
in order to achieve a silver color, a nickel or chromium layer is applied to the brass part. That is why the silver surface finish is more expensive, is more complicated for production.
Product variants
Gold

Art.No.: EL2262004

Silver

Art.No.: EL2262004Ni
Product parameters
| | |
| --- | --- |
| Diameter: | 115 cm |
| Height (without the hinge): | 65 cm |
| Weight: | 22 kg |
| Number of bulbs: | 20 |
| Max. wattage/socket: | 20x40W (E14) |
✔ Also suitable for LED bulbs
✔ Advice - consultation
X Supplied without bulbs
Chandelier with unconventional proportions is composed of twenty smooth glass arms of unusual shape, which carry beautifully shaped, simply cut bowls under bulbs and glittering waterfall of crystal trimmings, ending with cut pendeloques - oak leaves. The upper part of the chandelier forms a shape of crown made of twisted glass parts, which is also decorated with trimmings; the same trimmings are around glass bowls under bulbs. The chandelier is by its dimensions especially suitable for representative rooms, which have not very high ceiling. Diameter 115 cm ensures that this luminaire becomes a dominant of the space and visitors can admire the splendor and refraction of light on perfectly polished trimmings made from the genuine Czech crystal. We can offer this chandelier also with frosted bowls, the price will be higher by 5,5 %. In the same design we offer also wall lamp with three arms.


Want to see the chandeliers for yourself?
Do you want to see the quality of our chandeliers for yourself? To see how light reflects in them and how they can transform a room? Visit our showroom. Info here >>

How to clean the chandelier?

You don't have to take anything apart and wash it by hand. Just spray it thoroughly once a year with a special cleaning spray, all the dirt will dissolve and run off by itself. The entire cleaning procedure can be found here >>


Does the chandelier have a high energy consumption? It doesn't!

LED bulbs have undoubtedly made the biggest technological and design advances in recent times. They have a long lifetime and very low energy consumption. So your chandelier may consume less energy than your television. More about LED bulbs in our chandeliers here >>


Would you like advice on choosing or customising a chandelier?
Whether you're interested in chandelier care, customising a chandelier or just unsure of your choice, get in touch. We'll be happy to answer all your questions - contact customer support >>


How we "lit up" a renovated villa in Prague.
Our chandeliers also decorate a beautifully renovated villa in Prague. See why the owners chose our chandeliers.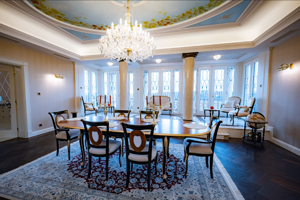 New product question Chandelier EL2262004